CloudDesk vs. ActivTrak | Choose The One More Suitable For You
Do you want to know how CloudDesk and ActivTrak differ?

Employee monitoring software such as CloudDesk and ActivTrak are both widely used. Their features are quite similar, making it challenging to choose between them. That's why, we'll compare the features of two popular employee monitoring tools — CloudDesk and ActivTrak in this article, so you can determine which software best fits your requirements.

The evaluation will assist you in identifying the strengths and weaknesses of each software, allowing you to have a comprehensive understanding of each and select the best option. Aside from the necessary features, you need also to evaluate the software, which is simple and intuitive is a better product.

What is ActivTrak?
ActivTrak is employee productivity and analytics software that allows companies to track time and understand how workers perform, whether in the office or working from home. The software's primary focus is on controlling undesirable activities with its range of team monitoring features. The software is appropriate for small, medium, and large businesses, as well as Freelancers that want to increase their productivity.
The most basic subscriptions, starting at $9 per user per month, have a variety of capabilities except an advanced one.

What Is CloudDesk?
One of the fastest-growing employee monitoring software is CloudDesk. This intelligent monitoring software provides productivity insights to assist you better understand how workers operate, as well as detailed analytics to help you improve employee efficiency.
CloudDesk is the best tool for analyzing your employees' productivity since it provides easy-to-understand and comprehensive visual data of their work patterns, including productivity level, total work hours, and a record of all other work activities. Data from individual employees and teams on a daily/weekly/monthly basis will enable you to grasp the average and who is a top performer.

As an alternative to ActivTrak, CloudDesk is better suited for businesses of all sizes that are concerned in employee activity monitoring for improved Business ROI rather than only for freelancers seeking performance measurement.

CloudApper, a No-Code Enterprise Mobile Apps Platform, powers CloudDesk. You can consolidate all of your business tools into a single mobile app with CloudApper, providing your managers fast access to everything they need to drive success. So, if you're thinking about trying out CloudDesk, you'll have the option of getting access to CloudApper's popular marketplace apps.

Aside from CloudDesk, there is no additional expense to add more marketplace apps. As a result, you can obtain the benefits of numerous excellent enterprise-grade apps for the same price.

CloudDesk's premium subscription costs $5 per user per month and includes all premium features.

Key Feature Comparison
Considering CloudDesk and ActivTrak are similar tools, we've put together a side-by-side comparison of their main features. Take a look at them, we'll show you why you should use CloudDesk over ActivTrak in more detail.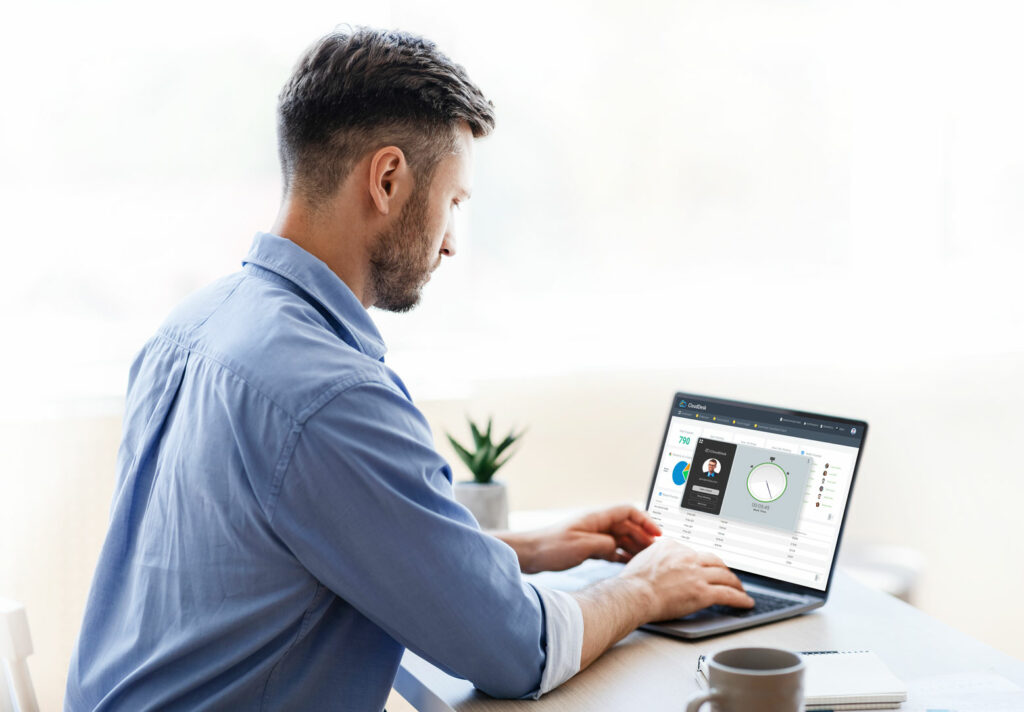 Productivity Tracking

ActivTrak: The software gathers user activity data and analyzes it to generate reports that show how employees perform their tasks. Individual and team productivity, as well as their 'availability status, are also displayed. Throughout the day, you can check productivity metrics for all employees.
The software helps you understand employee time usage and performance metrics, which is beneficial to both your employees and your company. However, not all features are accessible in the Advanced section; users with the Premium subscription have full access to all features, allowing for more accurate productivity reports.

CloudDesk: Employee tracking and data of all employee work activities are provided by CloudDesk, giving you a comprehensive view of productivity metrics. It assists you in analyzing each employee's work routines as well as providing a broad picture of how and when your employees are most productive. Employees' login/logout time, as well as their productive hours, will be displayed on a single dashboard in an easy-to-understand manner.

All of the data is translated into useful information to provide extensive reports on employee working styles, allowing you to learn about your employees' behavioral patterns and adjust work practices accordingly to extract maximum productivity from your entire team.


Time Tracking

ActivTrak: ActivTrak automatically tracks time and collects employee work data. It collects data on employee activities in addition to recording time worked such as:
• Idle time
• Attendance
• Breaks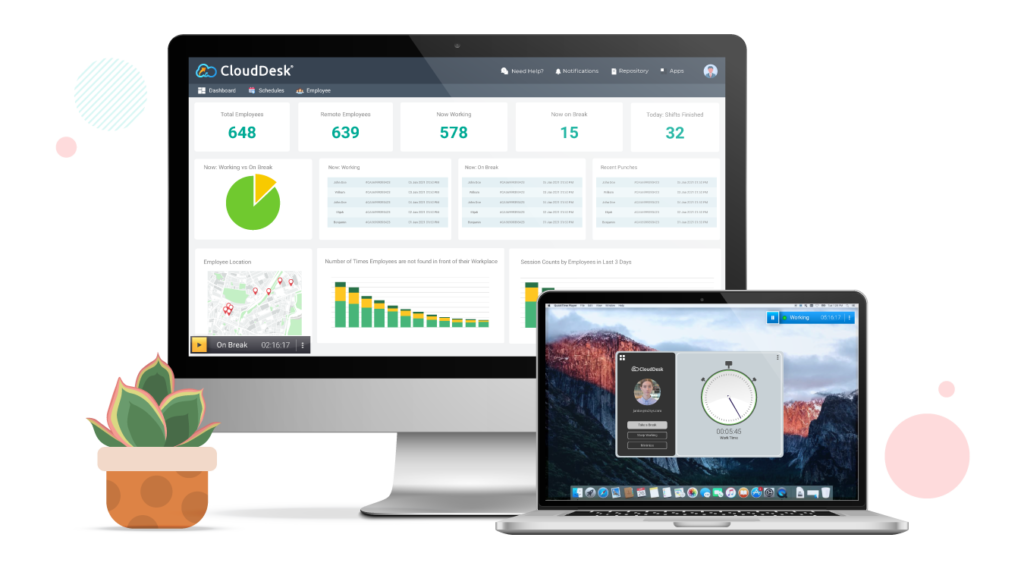 From the data collected, you can see:
• The number of hours they worked.
• Which websites they visited.
From the main ActivTrak dashboard, you can access all of your time tracking information all the time.
CloudDesk: CloudDesk time tracking begins when an employee hits the "start" button to start tracking their time, and the software keeps track of the person's varied activities from that point on to provide you with an accurate summary of their work. With the opportunity to take many breaks, employees have the flexibility to use it at their convenience.
The software gathers information on employee activity such as:
• Idle time
• Attendance
• Breaks
• Random screenshot as a proof of work
The dashboard can be used to view the collected data as a summary of your employees' activity, such as:
• The websites and apps utilized by your team.
• The amount of time each member of the team spent on each app or website.
• Time spent on tools that are useful for the job.
• Whether an employee was late or was absent.
Reports and Analysis
ActivTrak: The software generates overall analytical reports that might aid in increasing employee productivity. You can view reports for any date range, user, or other criteria to understand more about an employee's work activity.
The reports of ActivTrak includes:
• Web & Application use: the report shows the employees' web & app usage history.
• Single-day productivity report: allows you to observe what your employees are up to throughout the day.
• Idle time: Keeps track of idle time and adds it to the report.
Overall, the report they provide is a useful resource for companies that have recruited Freelancers or have a handful of employees.
CloudDesk: CloudDesk generates detailed reports with clear insight for increasing employee productivity and operational efficiency. Understanding how your team works might be difficult, but CloudDesk makes it simple to measure many data insights to have a better understanding of employee productivity.
Aside from daily reports, real-time monitoring features allow you to verify each employee's work activity at any moment. You can always monitor employees on the go with the help of mobile devices, and you'll never miss an update.

The following are some of the main reports provided by CloudDesk:
• Projects and Tasks: Shows how much time each project takes. In addition, the report breaks apart each user's specific tasks.
• Timeline: Displays when your employees begin and complete their workday, as well as the amount of time they spend working and taking breaks.
• Face Id Verification: Performs random Face ID verification to guarantee that the appropriate employee is on the job.
• Web and App Usage: To ensure you're being productive, keep track of how much time you spend on different websites and apps.
• Hours Tracked: Displays the number of hours tracked by users over a specified time period.
• Real-time report: This report shows you what your employees are up to while you're checking.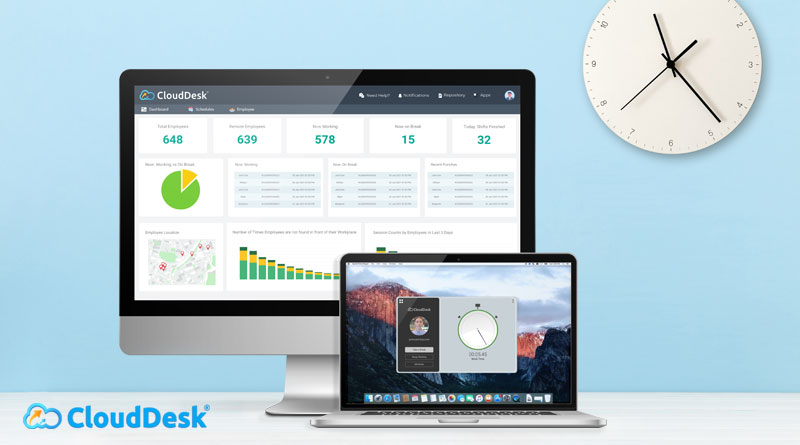 The Pricing Plan
| CloudDesk | ActivTrak |
| --- | --- |
| Has a free plan with basic features, which is perfect for small businesses or solo freelancers | Has Free plan without Basic features |
| Premium Package is $5/user/ month with all features | Has 2 Pricing plans, Advanced and Premium. Price range starts from $9 to $15 per user per month. |
| Unlimited Apps from CloudApper marketplace |   |
Activetrack is more robust and comprehensive software for larger workforce, CloudDesk is a simple user friendly employee monitoring solution for gaining insight into employee activity to increase productivity and engagement.
CloudDesk vs Teramind – Feature and Pricing Comparison
CloudDesk vs. Workpuls | Which one is better?
CloudDesk vs Time Doctor: Which is the Best Employee Monitoring Software?
CloudDesk vs Hubstaff: Better Productivity Tracking Software