Manage your Border Digitally with the eGov platform
Borders not only separate one country from another but also play a vital role in the overall stability of two nations. Apart from the developed countries, most developing countries and least developed countries constantly struggle to manage the people entering or leaving their countries. These uncontrolled movements sometimes lead to serious security issues. That's why having digital border management is vital. 
How the Border Management System Works
Governmental procedures to monitor and restrict the movement of people across land, air, and sea boundaries are referred to as border control. While border control is most commonly linked with international boundaries, it can also refer to controlled places like a military academy or military base. 
Border controls are used for several reasons, including enforcing customs, sanitary, and biosecurity standards and limiting migration. While some borders are open and unprotected, others, such as the great majority of international borders and certain internal borders, are under control and may only be passed lawfully at designated checkpoints. Unfortunately, in the twenty-first century, border controls are intricately entwined with complicated systems of travel papers, visas, and more complex rules that differ by country.
To streamline these complex operations, the only option is to implement a digital solution that automates the process and increases security. 
Making international borders more secure can be done while protecting the human rights of people crossing those borders, according to a panel of experts on border security issues. This was a claim from a Biometric Update. They have published a blog on Protecting rights and regions using border biometrics.
Border Management System By eGov 
There are many border management systems out there, but the border management system by M2SYS eGov has its unique characteristics. As mentioned earlier, there are two parts to border management. One is the exit-entry point, and the other one is immigration. The Border Management System by M2SYS streamlines the often redundant, multiple passport reviews that many airport and border security checkpoints require. Before I compel you to try the new border management system by M2SYS eGov, let's have a sneak peek into an actual use case of the Border Management System.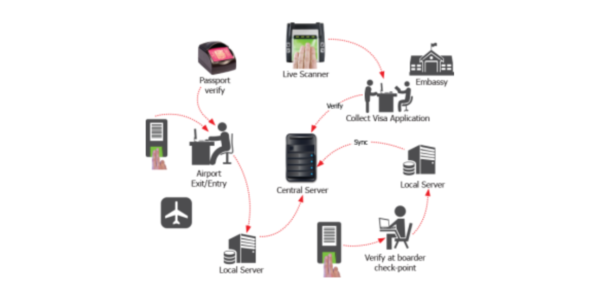 Sulaymaniyah Province, Iraq
Before using biometric border control software, agents manually recorded visitors and processed administrative paperwork, causing delays. Each visitor's registration took 15–20 minutes. The lack of a reliable way to authenticate identification has raised security worries. The authorities feared militants and terrorists would infiltrate the city and endanger the inhabitants.
All borders and the airport in Sulaymaniyah Province employ a web-based program that connects to the primary data center. This improves database sharing to oversee border security and manage visitors at locations nationwide. The Sulaymaniyah Province of Iraq is now getting the benefits of a comprehensive border management system. You will also enjoy the following benefits:

Improved Experience
The best part of digital border management is the user's experience while interacting with the system. Only a tiny portion of the visitors aim to cause harm to national security; others can enjoy hassle-free travel and immigration.

Custom solution
Each country has its own set of rules and regulations. eGov by M2SYS addresses this issue with its unique, customizable platform. So if you require any custom workflow, you can easily do it, and the best part is you do not need to worry about complex coding.

Better security 
Security is one of the essential features of the border management system. M2SYS eGov offers seamless use of both ABIS and any biometric hardware. Thanks to biometric security, you know exactly who is going in or out of the country.

Accurate identification 
The Border Management System by M2SYS eGov platform supports multi-modal biometric modalities like fingerprints, face recognition, IRIS, vein recognition, and more. So the chance of a spoofing identity is close to zero.

Less paperwork
On average, it takes around 20 minutes to process a traveler. This creates a trail of paperwork and a huge backlog. However, everything can be managed digitally with the Border Management System, even from a smartphone.

Why go to the trouble of integrating different systems when you have them all in one solution? This border management system can be deployed at any airport, seaport, land port, or embassy to quickly and accurately retrieve traveler information. Get in touch with us today to get a sneak peek at how the system works.